Revolving Mind Events announces second Beyond The Game event in 2022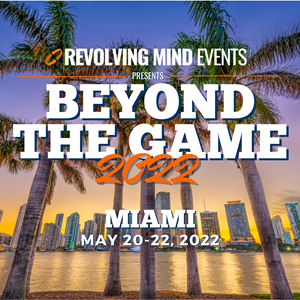 /EIN News/ — Dallas, Texas, U.S., March 31, 2022 (GLOBE NEWSWIRE) — With an overwhelming response from businesses and athletes, Revolving Mind will host a second Beyond The Game event at the Hyatt Regency in downtown Brickell in Miami, Florida.
In February 2022, Revolving Mind Events (RME) announced its first Beyond The Game networking retreat for Las Vegas in July. With an overwhelming response from businesses and athletes wanting to attend the event, RME has now set a date and location for the second event in Miami, Florida from May 20-22. The second event will be similar to the layout of the Vegas event with 15-20 professional athletes and 8-10 companies coming together to network, teach and learn about the opportunities athletes have now and after their days of play.
Revolving Mind Media Beyond The Game Retreats brings together a wide range of professional athletes looking to learn more about the business world. These destination retreats are packed with product presentations, one-on-one activities, and group dinners with top-notch entertainment.
"We always had faith in this event and knew there would be incredible interest from athletes and businesses alike," said Aaron Zack, co-founder of Revolving Mind Events. "Our team is passionate about making sure athletes are prepared after their playing days are over. This opportunity prepares them to become professionals on and off the field.
Scholy – The #1 app to earn scholarships and reduce student debt – has helped over 2.5 million student subscribers earn $100 million since 2015. Scholly helps college students, graduates, and young professionals access resources and solutions that help them achieve their financial and professional goals. To learn more about Scholly, visit myscholly.com.
Wilkinson Wealth Management – Wilkinson Wealth Management, LLC is a full-service investment planning and wealth management firm based in Charlottesville, Virginia. We center our business on providing personalized and comprehensive advice to our clients, driven by care and compassion for them, their families and their businesses. Through a detailed process of analysis, research and goal development, we create and implement short and long term plans built around a client's financial aspirations. Our knowledgeable and qualified team holds a range of certifications, specialties and industry experience. There are advisors with CERTIFIED FINANCIAL PLANNER™ (CFP®) and Chartered Financial Analyst™ (CFA®) designations, as well as experience in trust and estate administration and specialist designations such as Certified Divorce Analyst (CDFA) and Certified Retirement Plan Specialist (CRPS). ). And our firm's extensive knowledge enables us to effectively address the unique needs and concerns of our affluent clients with professionalism and discretion.
McKee & Associates – We help people transition from employment to business ownership by matching them with a franchise opportunity that allows them to achieve their lifestyle goals as well as their income goals. We are interested in meeting people who want to own their own business but don't really know how to go about it.
We have extensive experience and understand the complex franchise issues of the franchisor and the franchisee. We understand the need to combine significant business knowledge of the ever-changing franchise landscape with in-depth knowledge of how quality franchise organizations are run and what they look for in ideal partners. We seek to introduce our clients to the best franchise companies. We have the flexibility to operate in a wide variety of areas and include franchise businesses in industries such as Real Estate Services, Personal Services, Food/Restaurants, Manufacturers, Real Estate, Automotive, elderly care, fitness and many more – 40 industries in all.
Financial strategies in the field – Field Financial Strategies, LLC is the EXCLUSIVE INSURANCE PARTICIPANT and is a boutique business planning practice with a primary desire to help friends and clients live life to the fullest, without worrying about finances. Our goal is to build a strong lifelong client/advisor relationship, in which we are committed to working to achieve our client's goals and where the client's best interest is always seen as the primary concern. Samuel E. Strum (Sam) specializes in using life and disability insurance to develop solutions that meet the needs of individuals and businesses. Sam is a qualified member of the Million Dollar Roundtable (2020), the premier association of finance professionals recognized globally as the gold standard for life insurance sales performance in the insurance industry. Sam became a member of the prestigious Executive Council of New York Life, an annual recognition program of the company based on the production of agents from July 1 to June 30.
Casoro Group – Casoro Group is a 100% minority, award-winning, vertically integrated commercial real estate investment company. Their commitment is to provide Better Homes for Better Lives®. Their personalized approach unlocks value and creates attractive, efficient and income-generating multi-family real estate investments. To date, Casoro Group has completed over $1 billion in real estate transactions.
GDS Wealth Management – GDS Wealth Management is a financial planning firm located in the Dallas, Texas area. Our clients include business owners, executives and high net worth investors. At GDS, we are focused on providing first class personal service directly to you and your family. We provide comprehensive financial planning and investment management and work closely with you to develop a plan that meets your financial needs and goals. Thanks to our personalized approach, Forbes Magazine has named our founder, Glen Smith, CFP®, one of the top 50 advisors in Texas for three years in a row. Plus, we're a pay-as-you-go company and charge NO transaction costs – a distinction that sets us apart from many other companies. As trustees, we place our clients' needs above our own by always acting with honesty, skill and diligence. We also offer free pension reviews and would be happy to guide you through this process. Contact us today to speak to one of our Certified Financial Planners and learn more about our team and our mission.
T+CM360 –
Independent business
CPA and PCP
NFLPA Registered Player Advisor providing services to current NFL players
Tax preparation and tax planning
Investment management
Global financial planning
The second event will take place at the Hyatt Regency in downtown Brickell. "Our team is ready to showcase our industry-leading event planning and production capabilities to produce an event that is the best in the industry," said Nick Marino Jr., Zack co-founder of Revolving Mind Events.
About the spinning mind
Based in Dallas, Texas, Revolving Mind (RM) is a major media player that focuses on three areas, marketing, investments and events. The marketing arm is a full-service agency whose clients are evenly split between brands and professional athletes. In 2019, RM launched its investment entity which supports small and medium enterprises. Recently, RM formed Revolving Mind Events, an event planning company whose goal is to teach athletes and those around them about life outside of the game. To learn more, visit RevolvingMind.com.
Connect / Follow Revolving Mind Media: Instagram
* Disclaimer
Wilkinson Wealth Management, LLC: Securities offered by LPL Financial, Member FINRA/SIPC. Investment advice provided by Private Advisor Group, a registered investment adviser. Private Advisor Group and Wilkinson Wealth Management, LLC are separate entities from LPL Financial.
Throughout this communication, the terms "financial advisers" and "advisors" are used to refer to registered representatives and/or representatives of investment advisers affiliated with LPL Financial LLC. We regularly disclose information that may be important to shareholders in the "Investor Relations" or "Press Releases" section of our website.
LPL Financial, Revolving Mind Media, Revolving Mind Events and Wilkinson Wealth Management, LLC are all separate entities.
GDS: Certified Financial Planner Board of Standards Inc. holds the certification marks CFP®, CERTIFIED FINANCIAL PLANNER™, CFP® (with plate pattern) and CFP® (with flame pattern) in the United States, which it awards to individuals who pass the CFP Initial and Ongoing Board Certification Requirements.

Full Name: Nick Marino
                  Company: Revolving Mind Media
                  Phone Number : (214) 395-4269
                  Website : www.revolvingmind.com
                  Email : [email protected]