8 Bay Area arts and entertainment events to check out this week, September 20-26
The guide to chronicling notable arts and entertainment events in the Bay Area.
'In Balanchine's Classroom' shows former dancers carrying on their legacy
Ballet choreographer George Balanchine once suggested that his ballets die with him because, even if another choreographer tried to replicate his work, someone else would train the dancers and conduct the rehearsals. "In Balanchine's Classroom" is a documentary focused on Balanchine's disciples trying to maintain his artistic heritage in all its purity and rigor.
Featuring interviews with Merrill Ashley, Edward Villela, Jacques d'Amboise and others, the documentary moves from images of the classroom today to images of Balanchine training his dancers in the 1970s and early 1980s. 1980. Directed by Connie Hochman, the film is a tribute to Balanchine's work and a testament to the value of teaching.
For Roxie's screening of the film on Monday, September 20, co-presented by the San Francisco Ballet and the San Francisco Dance Film Festival, consulting producers Dan Geller and Dayna Goldfine will be in attendance and answer questions from the audience.
"In the Balanchine classroom": 6:45 pm Monday, September 20. From $ 8 to $ 15. The Roxie Theater. 3117 16th Street, SF (415) 863-1087. bit.ly/balanchinesroxie
– Mick LaSalle
Baloney, positive for sex, body and fantasy, brings an all-male review back to Oasis
When the all-gay, all-male revue known as Baloney hosted a car wash outside the SoMa Oasis nightclub, their tagline was "Welcome to Suds & Studs, the only car wash where you leave dirtier. than you entered ". On its website, alongside the standard tab labels like "Home" and "About", is another more unusual one: "Fantasies".
This is the cheerful, positive take on body and sex of troupe founders Rory Davis and Michael Phillis, which was recently celebrated in a documentary film, "Baloney: An Under-the-Covers Look at Gay Queer Burlesque," which was screened at Frameline45 and Outfest.
"Everything we present is sexy for someone," Davis says in the film.
Now the group is returning to the original Oasis base for their first in-person show since the start of the pandemic. Sure, it's exciting, the presenters promise, but there's also the story, the character and the substance.
Phillis ("Patty from HR") directs and Davis ("Roryography") choreography.
"Baloney: Folsom Returns!": 7 p.m. Thursday to Saturday, September 23 to 25. $ 35 to $ 70. Oasis, 298 11th St., SF www.sfoasis.com
– Lily Janiak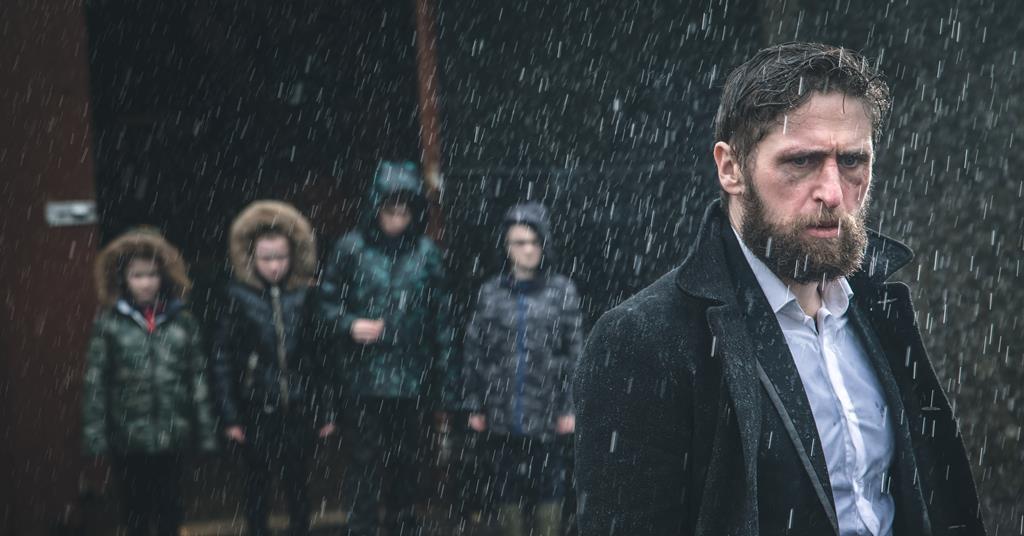 San Francisco Irish Film Festival returns to Delancey Street Theater
The San Francisco Irish Film Festival is back and ready to party.
The 17th annual festival returns to the Delancey Street Theater along the Embarcadero with an opening night at 6.30pm on Thursday 23 September, followed by "Phil Lynott: Songs for While I'm Away", a documentary about the Dublin-singer born from Thin Lizzy. Other screenings include a short film program (Friday, September 24), a family screening of the Oscar-nominated animated film "Wolfwalkers" (3:30 pm Saturday, September 25) and the closing film, "Redemption of a Snape "(8 pm Saturday, September 25), the feature debut by award-winning playwright Philip Doherty.
The festival also takes place online for four days, from Thursday September 23 to Sunday September 26.
San Francisco Irish Film Festival: Thursday to Saturday, September 23-25. Delancey Street Theater, 600 Embarcadero, SF Available to stream Thursday through Sunday, September 23-26. $ 15 to $ 30. Festival pass $ 50. sfirishfilm.com
– G. Allen Johnson
Immersive 'Charmian's Wild Call' Gala Celebrates Jack London's Free Spirit Widow
Charmian Kittredge was already a world traveler and writer when she married "Call of the Wild" author Jack London in 1905. Now a new immersive event to benefit Jack London State Historic Park will take you to her world, especially her real-life Glen Ellen home, Beauty Ranch, which she shared with literary celebrity.
Created by Gregangelo's Velocity Entertainment, under the direction of former Sonoma Alcalde Marcelo Defreitas, "Charmain's Wild Call" takes the attendees of the evening back in time to 1926, 10 years after the death of Jack London, as the world roaring again after the global Spanish flu pandemic. .
The event will surround revelers – with performers embodying the bohemians of the era, including the dynamic hostess – allowing history to once again inhabit the space in a unique way. Guests are encouraged to dress in their favorite 1920s-inspired formal looks to fully enjoy the interactive experience of the night.
Customers are encouraged to purchase their tickets in advance as long as they remain available.
"Charmian's Wild Call": from 6 p.m. to 10 p.m. on September 25. $ 350 per ticket, tables start at $ 2,000. Jack London State Historic Park, 2400 London Ranch Road, Glen Ellen. 707-938-5216. https://jacklondonpark.com/
– Tony Bravo
Oakland Celebrities Gather for Online 'Bedtime Stories' to Benefit Children's Fairyland
Children's Fairyland's annual fundraiser, "Bedtime Stories," will be held virtually again this year, so much the better so you can get comfortable while Oakland celebrities read some of their favorite books in support of the game. beloved 71 year old attraction.
Readers confirmed so far include "Blindspotting" stars Rafael Casal and Daveed Diggs, celebrity chef Tanya Holland and "Snap Judgment" and "Spooked" podcaster Glynn Washington, who will host the event live. Who could fall asleep with such an alignment?
Although the event is free, donations are encouraged. Those who contribute during the live stream will receive a special edition Fairyland donor sticker and enter a raffle to win discounts on Fairyland merchandise, as well as a chance to attend the park's Fairy Winterland celebration. An online auction is expected to feature items such as the Casal and Diggs autographed Fairyland Magic Key Footed Pajamas; an event kit containing autographed copies of books read during the event; an autographed copy of Tanya Holland's "Brown Sugar Kitchen Cookbook"; Oaklandish mugs and more.
After the flow, you can access the different reader segments at fairylandsmagictree.org.
"Bedtime Stories": 6.30 p.m. Saturday, September 25. Free, upon registration. www.fairyland.org/bedtimestories
– Tony Bravo
Chanticleer marks a return to live performance with music from 'Awakenings'
Given its wide stylistic range and versatility, Chanticleer could probably put together a thematically appropriate program on just about any subject. Yet there is something particularly delightful about "Awakenings", the program with which the male choir celebrates their return to performing after this long and painful hiatus.
The music, all on themes of new beginnings and return, includes choral works by William Byrd, Claudio Monteverdi and Augusta Read Thomas. Also on the program are two newly commissioned premieres by Steven Sametz and Ayanna Woods – proof in itself that the musical world is returning to something like normalcy.
Chanticleer: 7:30 p.m. on Saturday, September 25. Until October 2 $ 10 to $ 62. Proof of vaccination required. Green Room, Veterans War Memorial, 401 Van Ness Ave., SF 415-252-8589. www.chanticleer.org
– Joshua Kosman
Pianist Stephen Prutsman celebrates progressive rock
Music lovers of a certain age and of a certain stylistic predilection will remember the heyday of the 1970s of progressive rock (also known, affectionately or scornfully, as "progressive rock"), in which some of the techniques formal and contrapuntal classical music were brought into use in a popular context. .
The polymath pianist Stephen Prutsman likely remembers it with perfect clarity and pays homage to the movement in a recital titled "Prog to Bach and Bach Again". Prutsman will combine keyboard works by Bach (the "Italian" Concerto, Prelude and Fugue in C major, BWV 870), with the music of progressive rock icons Genesis, Yes and Gentle Giant.
Stephen Prutsman: 8 p.m. Saturday, September 25. $ 25. Proof of vaccination required. Former First Presbyterian Church, 1751 Sacramento St., San Francisco. 415-474-1608. www.oldfirstconcerts.org
– Joshua Kosman
Tabard adapts 'Coriolanus' to our own terrifying time and place
Lest you think the dangers of crowds are obsolete – say, the stuff of Shakespeare's "Coriolanus," which is set in the fifth century BC.
"Cry of Curs", adapted and directed by Ken Kelleher, is frequently inspired by the video. Three actors perform in person, joined by other cast members who are projected onto seven surfaces. The small in-person casting was a COVID security measure, but the proliferation of screens also speaks to the particular threats posed by large digital groups.
Kelleher said in a statement that his adaptation explores two American traits: "One, a fierce and intense tendency towards rampant individualism, to the detriment of the nation as a whole; and second, a burgeoning and ever-heavy attraction to grassroots power, which Shakespeare calls "the mob."
Executive Artistic Director Jonathan Rhys Williams makes his Tabard debut in the title role.
"Cry of Curs": broadcast on demand until October 3. $ 17- $ 32. 408-679-2330. https://tabardtheatre.org
– Lily Janiak
For more calendar choices and to browse our calendar of events, click here.